warning: Bugging out to the woods in case of an SHTF event is suicide, because you don't stand a chance
Problem: evacuating when disaster strikes will kill the vast majority of those who decide to do it. I don't know who started this trend but I don't like where it's going...
Dozens of thousands will flee through the woods from the disaster, to forage and to hunt. Traffic jams will paralyze the main exits, with other routes being risky as well... and looters will take advantage of the situation, as they've done so many times in the past.
Cars and trucks will be destroyed by thugs, security checkpoints would be a pain in the you-know-what to pass, and driving through forest roads to avoid them is going to be a huge challenge, especially if you do it at night.
Within the first 3 weeks following a disaster, you shouldn't be anywhere near the woods, highways or FEMA camps. People are going to run around like chickens with their heads cut off, and when they see things aren't going back to normal, they're gonna take advantage of the situation and do whatever they want… with whoever they want.
Hunger, thirst, looters, other preppers, law enforcement, hypothermia, insects and wild animals are just a tiny few of the things that await you out there… and will make it hard if not impossible to get to your bug out location. And even if you do get there, who knows what you'll find… maybe your place has already been looted or even occupied.
And let's not forget that you're not getting any younger… you're slowing down, your back and knees hurt, your eyesight is not 20/20 anymore, you're accumulating health problems as you age. You need security, stability and comfort for you and your family and you don't want to completely change your lifestyle or move out to the middle of nowhere to feel safe.
While bugging out is important, it should always be plan B, because there's only a handful of emergencies that can force you to flee
Most disasters and catastrophes require you to bug in for at least 3 weeks and wait for the dust to settle...
First, you need a stockpile. A solid stockpile should also include water, medicine and tools to fix and maintain your home and garden, plus a few must-have items that will be hard to come by post-collapse such as canning lids. The good news is, they're all dirt-cheap. For now at least, because the prices will sky-rocket post-collapse, so the smart and only thing to do is to get them while they're still dirt-cheap.
Next, you need to prepare your home, the fortress that will provide food, water and shelter in any disaster. The good news you only need to make small changes to drastically improve security and the odds of you surviving home invasions... but you have to start looking at your home from a tactical perspective.
Last but not least, the 3rd pillar of a solid bug-in plan is having renewable food, water and energy, to live self-sufficiently for months, years or even your whole life... To bug in forever, so to speak.
All of these sound simple and they are, but bugging in has its own set of challenges.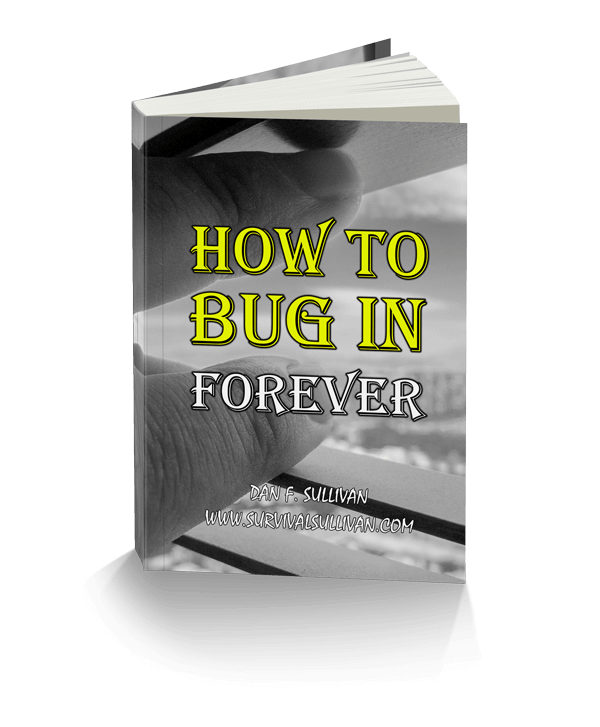 This product is digital. The image is for information purposes.
To overcome them, I put together an A to Z home study course with easy-to-follow instructions that even a kid can do… something to prepare you for the 30+ disasters and emergencies that I've identified… I call it:
"How to bug in forever", by dan f. sullivan
This is the only survival course filled to the brim with actionable advice that you won't find anywhere else. Believe me, I checked. My years of experience, learning from dozens of world-class preppers, reading military manuals (plus anything I could get my hands on) and being part of the prepping community… all of these have given me a body of survival knowledge that is unmatched.
To prove it to you, here's just a glimpse of what you can discover inside:
● How to build a one year stockpile… and fast. I'm talking healthy survival food, not the garbage, military MRE or "emergency food kits"...
● I'm going to reveal my full list of 50+ delicious survival superfoods that are jam-packed with vitamins, minerals and other nutrients you desperately need not just in survival situations, but every single day.
● I'm gonna help you sketch your tactical bug-in plans based on your unique situation: age, sex, climate, location, square footage, family members, medical conditions, pets and so on.
● 5 ways to live without a fridge, including the ones used by early pioneers. People in other parts of the world came up with ingenious ways to keep their foods fresh, and I'm gonna give you step-by-step instructions for each.
● How to find fresh food and water without risking your life. No matter how big a stockpile you have, it will run out at some point. I'll show you how to get out there and find more.
● Hygiene. This is going to be a HUGE issue. Lack of running water, tons of garbage and human waste will cause disease to spread like wildfire. I'm going to give you a few crucial ways to keep yourself and your family daisy fresh and germ free with little or no water.
● How to turn your home into a veritable fortress so it protects you from natural disasters, home invasions and anything in-between. Plus, how to stay protected 24/7 on a personal level, whenever you leave your house to go to the flea market or at night.
● The bulk of the course is where I give you specific, actionable "bug-in advice" for each and every disaster that could affect you… from Martial Law and social unrest (we've seen plenty of that lately) to hurricanes and many, many more. I'm also going to cover smaller, personal emergencies that most preppers never even consider…
● Can you bug in if you live in an apartment? The answer is yes, as long as you have a place to bug out to. Everyone thinks staying in the city is a bad idea but I beg to disagree. These golden nuggets will help you hunker down and survive in an apartment building.
● The most important survival drills you need to start doing today. These protocols are easier than bugging out drills because they're practiced at home.
● How to inspect your preps to make sure all your gear works and that none of your food has spoiled. This takes about an hour and you only need to do it once or twice a year.
This is by far the most complete survival crash course you will find (sorry for bragging), but I didn't stop there. I wanted to make you an offer you can't refuse, so I decided to throw in these bonuses that I think you'll enjoy.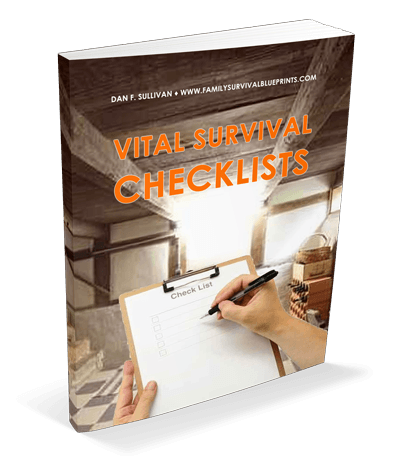 This product is digital. The image is for information purposes.
Bonus #1 is called Vital Survival Checklists. It's a list of lists that will allow you to figure out what's missing from your inventory… and fast.
From your typical bug out bag checklist to home protection and stockpile checklists, print them all out and tick the items one by one as you handle them. No fluff, just lists of things to have or do.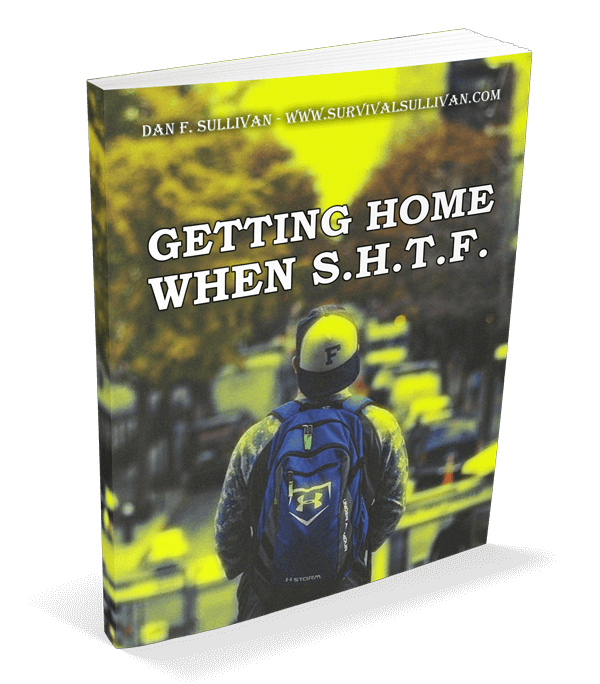 This product is digital. The image is for information purposes.
Bonus #2 will make sure you live long enough to bug in. It's likely that you won't be at home when disaster strikes, and this could be a problem. How are you gonna get home? What if your spouse and kids aren't there, can you go get them real quick?
My Getting Home When SHTF booklet tackles get home scenarios so you can quickly and safely bug in with all your family members, no matter where you are when it happens.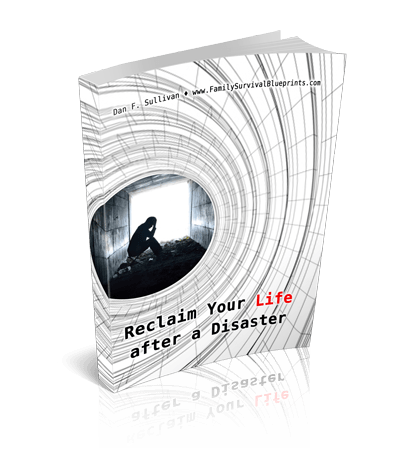 This product is digital. The image is for information purposes.
Bonus #3 is called Reclaim Your Life after a Disaster. From hurricane survivors to trained army soldiers in close combat, everyone is deeply traumatized by the critical events they experience.
Just imagine what a disaster or a personal emergency can do to your family. You need to know how to tackle fear, panic attacks and desperation to keep your family together.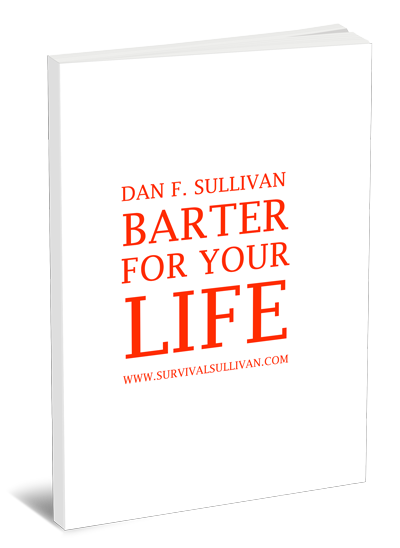 This product is digital. The image is for information purposes.
Bonus #4 is titled Barter for Your Life, and it teaches you not just how to barter in a post-collapse world, but how to negotiate TODAY to get better deals in places such as flea markets.
If you don't know when to bluff, when to leave and how to keep quiet when things are getting tense, you might come back to your spouse and kids with no supplies... or you might not come back at all.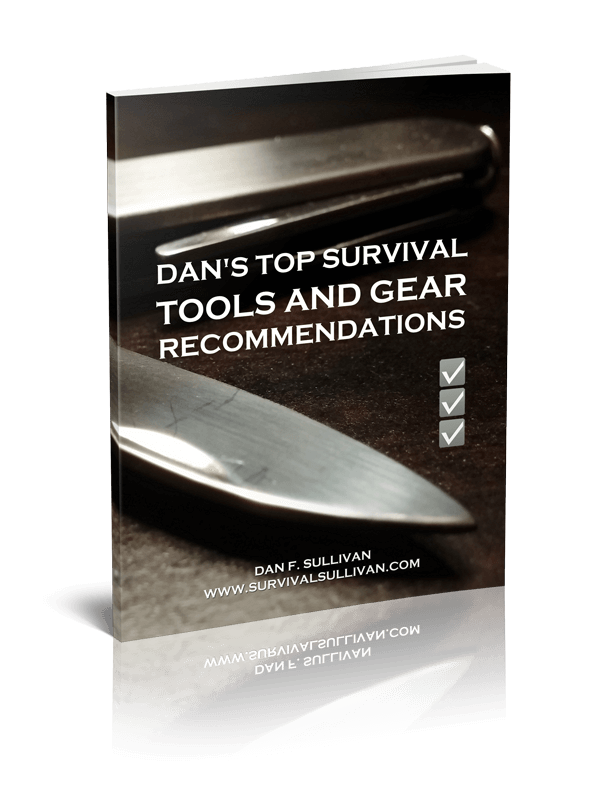 This product is digital. The image is for information purposes.
Last but not least, my 5th bonus is a collection of links to the best tools and gear you can find on Amazon, the best place on Earth to shop for survival gear.
Dan's Top Recommendations covers everything from the best knives and tools you can find on the market to grain grinders, flashlights and anything else you may need. All in one place, short and to the point, useful for both bug in and bug out scenarios.
The price of all of this? I'd say this is worth at least a hundred bucks for the amount and quality of information you receive. After all, I spent hundreds of hours making it, not to mention production and website costs, and, at the end of the day, I'm hoping to save a little for my own stockpile.
So how does $39 sound?
Give my course a test drive, measure your progress and, if you're not happy with it, you can always get your money back within 60 days. You've got 2 whole months to put my advice into practice. If, at any time, you feel like this isn't for you, send me a quick e-mail and I'll refund you every penny. Though I don't get many refunds, I'm prompt in handling them, because the last thing I want is an unhappy customer.